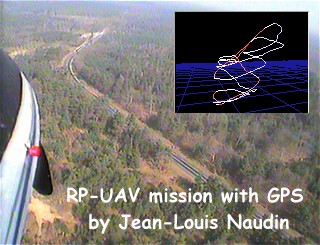 RP-UAV missions 7 : High Altitude survey with GPS
created on March 15, 2070 - JLN Labs - Last update March 19, 2007
Toutes les informations et schémas sont publiés gratuitement ( Open Source) et sont destinés à un usage personnel et non commercial
All informations and diagrams are published freely (Open Source) and are intended for a private use and a non commercial use.
---
The purpose of this 7th mission is to conduct a high altitude flight with the RP-UAV equiped with a GPS board, an autopilot and a video camera. The RP-UAV can be easily used for survey mission for tracking events.
The 7th test mission of the RP-UAV is : High Altitude survey with GPS.
Below, some photos extracted from the real time video sent to my HID...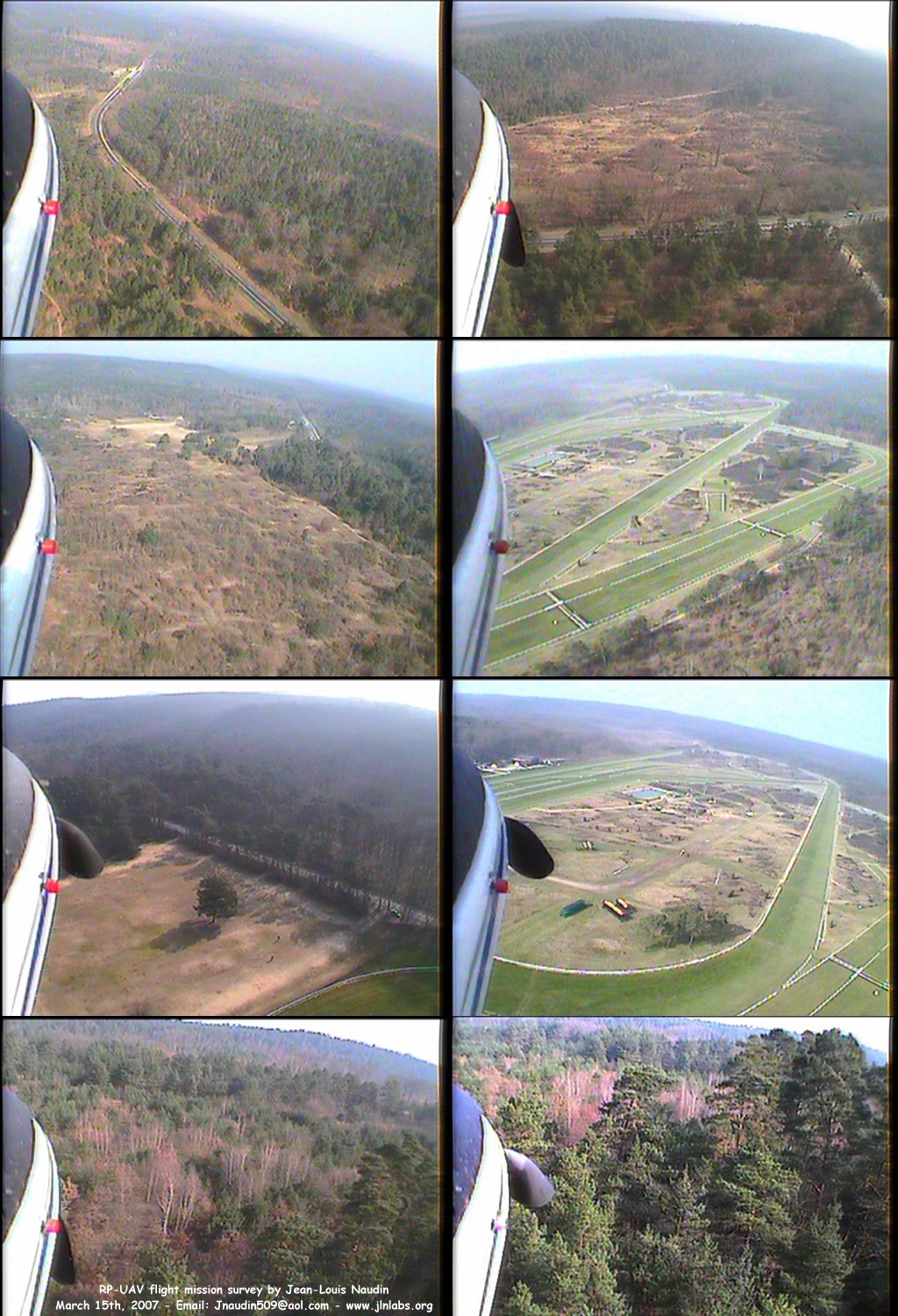 Click here to download this short video above ( 11 Mb, WMV format )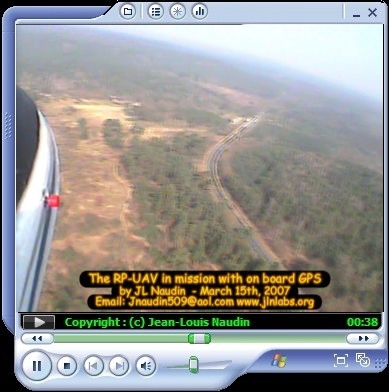 Click here to download the video above in High Quality ( 22 Mb, WMV format )
Below the GPS datas about the flight path of the RP-UAV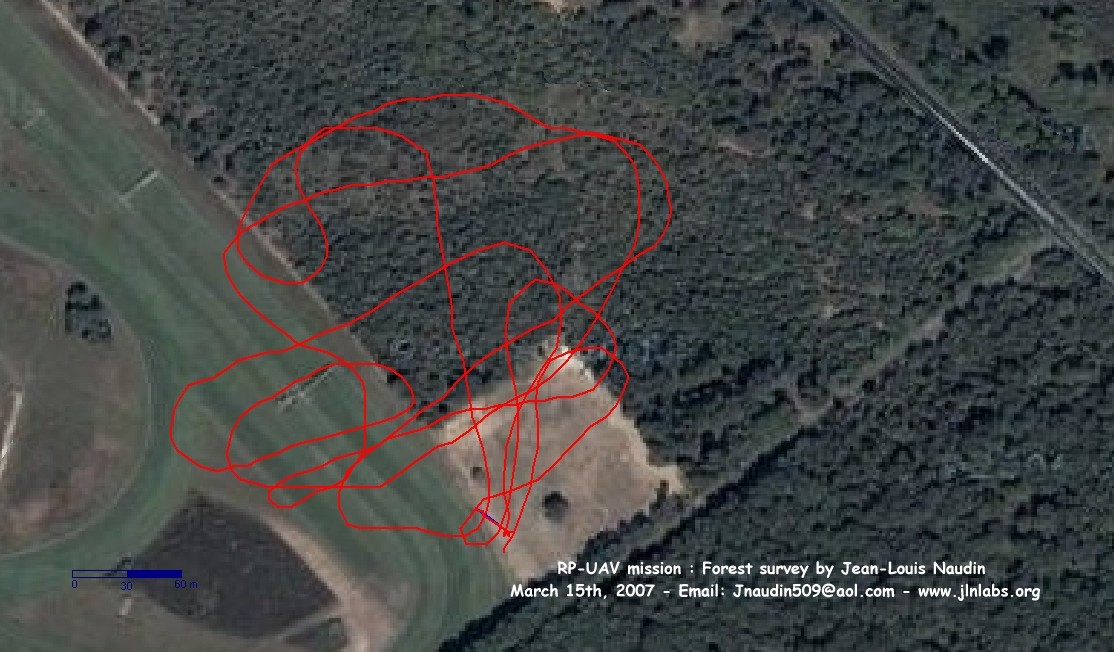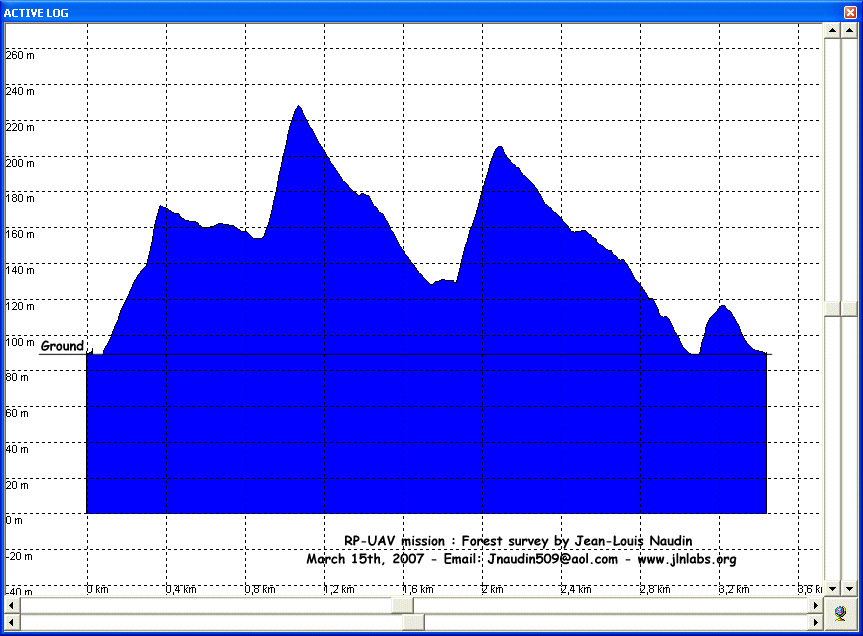 Above, the altitude Vs the time of the RP-UAV during its flight mission.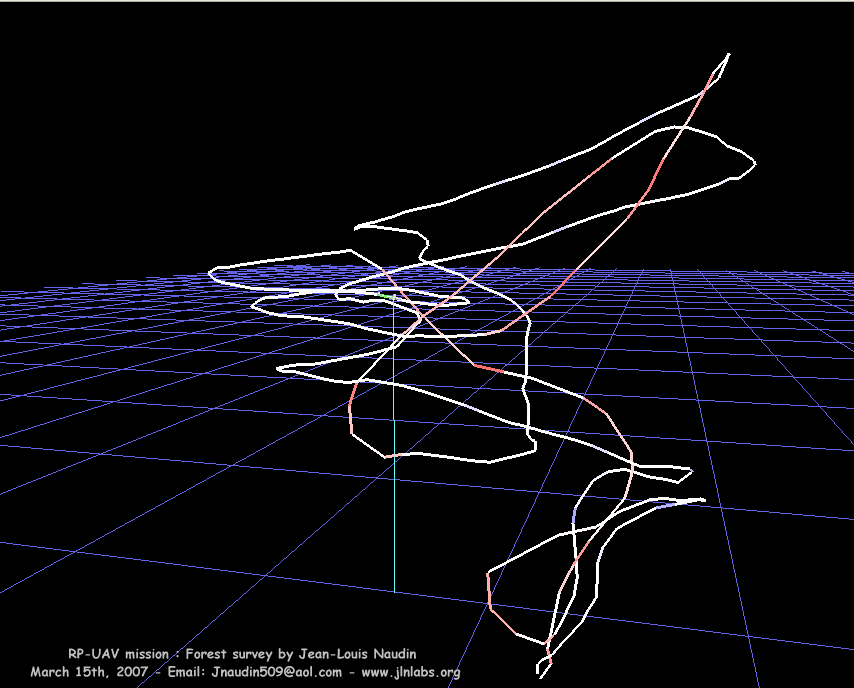 Above, the flight datas of the RP-UAV in 3D from the GPS, click on the picture to see the 3D path animation
Tests results : In this simulation of survey mission, the RP-UAV has demonstrated a great flight stability on the roll and pitch axis due to use of the auto-pilot. The GPS board has been used in passive mode and not linked to the controller board. The GPS accuracy during this flight mission was 6 meters. In future missions, the GPS control boad will be able to pilot itself the RP-UAV by controlling the yaw axis and the throttle for a full automonous flight and an altitude hold. The GPS board will soon be installed on the QRO-UAV.
Mission 1 : Bridge inspection
Mission 2 : Above and behind
Mission 3 : Above a singularity
Mission 4 : Above a monument
Mission 5 : Railway viaduct inspection
Mission 6 : Event Report
Mission 7 : RP-UAV high alt survey with GPS
Mission 8 : Flying above a nice place
See the next QRO-UAV Mission 8
For more info : jnaudin509@aol.com
---
To the QRO project page

visitors since March 19, 2007