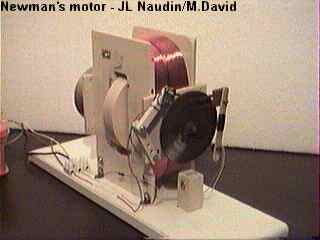 The Newman's Energy Machine
By JL Naudin/M.David
created on 06/12/98 - JLN Labs - last update on 06/27/98
---
06-27-98 - The Newman's Machine V1.4: The first signs of Overunity ?....
Now, the new enhanced commutator V1.4 shows some interesting results. The I/O current flow from the power supply has been measured accross a 100 ohms resistor between the points A-C. You may notice that there are LESS POSITIVE CURRENT PULSES THAN NEGATIVE CURRENT PULSES as shown in the picture below. Today my power supply is not able to convert these negative spikes of current in reusable power, this will be done soon with a new enhanced power supply circuit.

SHOULD IT BE THE FIRST PROOF OF OVERUNITY ?
The New Design of my commutator v1.4 (06-27-98)
THE FIRST SIGNS CONFIRMED ?...(07-02-98)
Some Newman's Machine Keys (updated 06-27-98)
---
If you need more informations or if you have any suggestions send me your Feedback

Email : JNaudin509@aol.com
---
Return to the Newman's Machine Main page