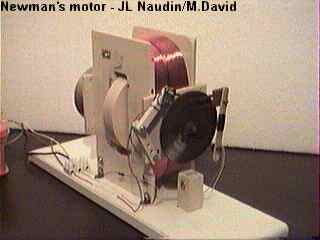 The Newman's Energy Machine
From Jean-Louis Naudin
created on 06/27/98 - JLN Labs - last update on 06/27/98
---
THE NEWMAN'S MACHINE KEYS FOUNDS on 06-27-98
Key ONE : The FREE energy must be tapped from the collector (inductor) WHILE it charges itself with its own magnetic energy,

Key TWO : HIGHER the POTENTIAL, HIGHER the NEGATIVE POWER tapped.

Key THREE : GREATER THE NUMBER of STEPS (Broken flow) DURING THE CHARGING PHASE of the "collector", GREATER the efficiency.....

Key FOUR : To get more electrical power back from the coil, the pulse duration must be at least 1/20th of the L/R timeconstant and, at the same time, a very big _changing_ magnetic field must be applied (generated by a rotating permanent magnet rotor).

Key FIFTH : The negative current comes from the DISRUPTIVE EFFECT caused by the "Broken segments" or a bumpy surface during the firing sequence. The negative energy (the real Free Energy) is pumped from the vaccuum DURING THE DROPS OF POSITIVE CURRENT. These drops create a kind of "syphon effect" in the Aether which pumps free energy and creates these deep and strong spikes showed in my scope picture.

Key SIX : The duration or the "life" of this negative current can be SUSTAINED by SMALL FLUCTUATIONS in the dropping potential, just after the disruption. This can be done by some SPECIAL SPARK-GAP DESIGN or a SPECIAL SHAPE of the "Broken segments".
more keys coming soon.....
---
If you need more informations or if you have any suggestions send me your Feedback

Email : JNaudin509@aol.com
---
Return to the Newman's Machine Main page