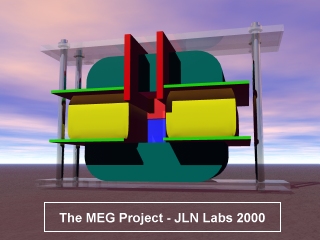 The Motionless Electromagnetic Generator Project
The MEG Project
"..This one works beautifully and produces COP=5.0..." has said Tom Bearden
Created on 11-18-00 - JLN Labs - Last update 05-10-02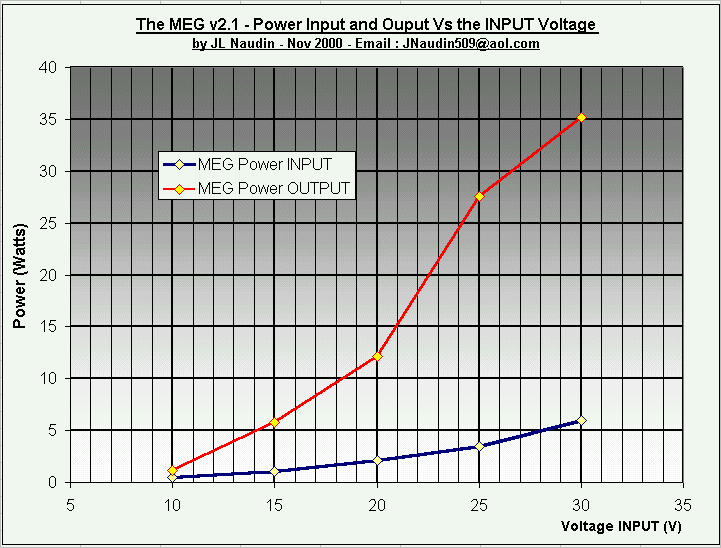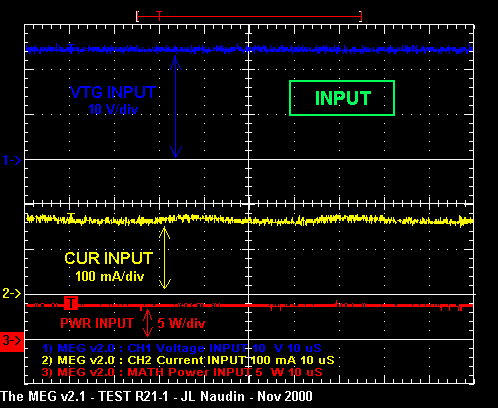 The TOTAL MEG INPUT at the DC input of the control board
The ACTUATOR COIL INPUT ( Primary coil )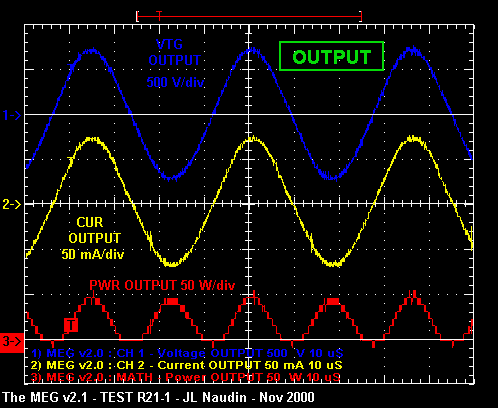 Above : The MEG v2.1 OUTPUT ( Secundary coil )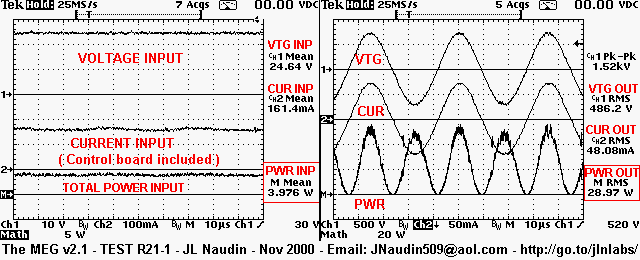 On the Left : The Voltage, the Current and the Power INPUT ( measured at the DC input of the MEG control board )
On the Right : The Voltage, the Current and the Power OUTPUT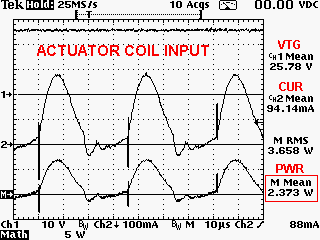 The ACTUATOR COIL INPUT
Note from Jean-Louis Naudin : The current has been measured with a 10 ohms ceramic and non inductive resistor ( with a Tektronix THS720P oscilloscope, the probe used is a 1/10 and scope setup for the CH2 is 1000mA/V ), the same resistor and the same method of measurement has been used for input and also the output.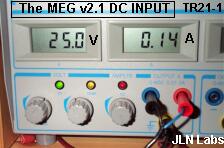 Above :The MEG v2.1 Input at the DC power supply
See : The MEG v2.1 diagram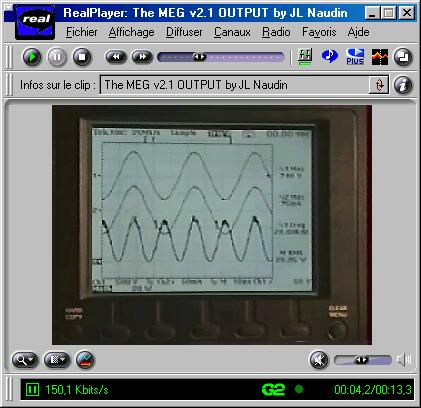 Video of the test done on 11-16-00 ( 228 Kb ), you need to have

The PowerLite™ C-Cores ( Honeywell ) are manufactured with the METGLAS amorphous alloy.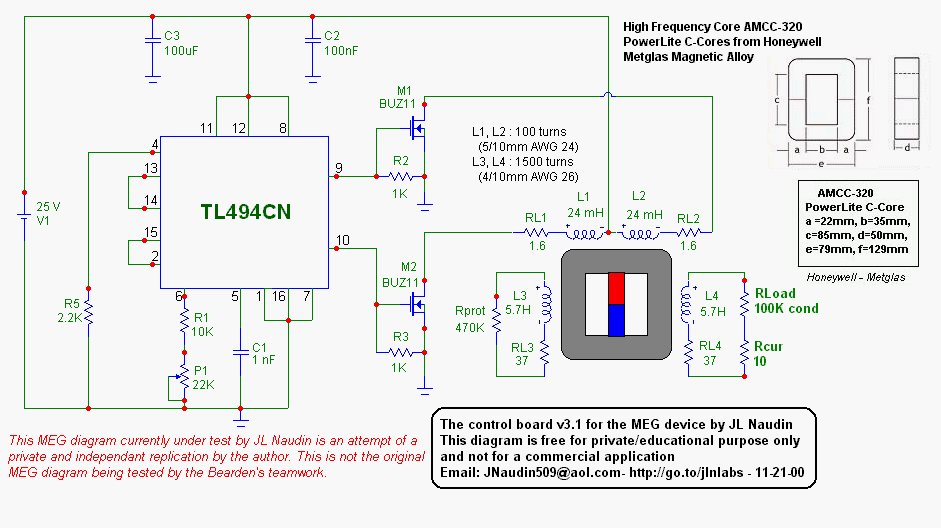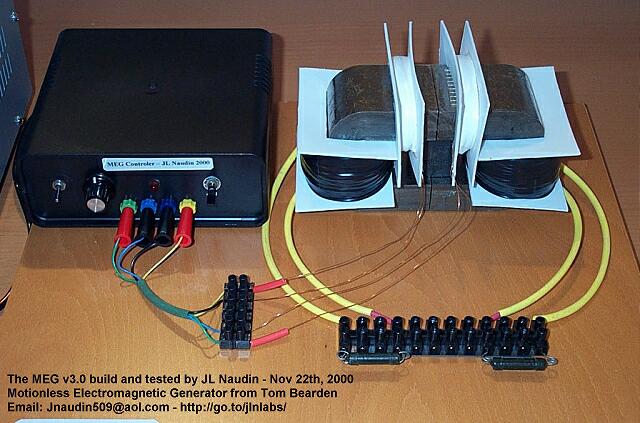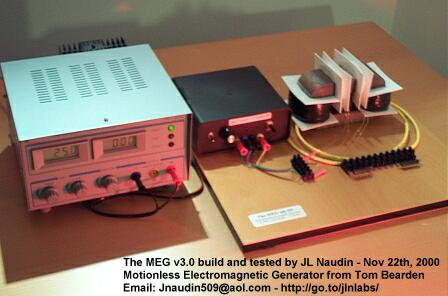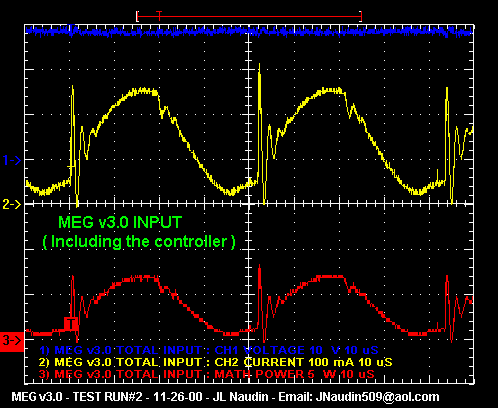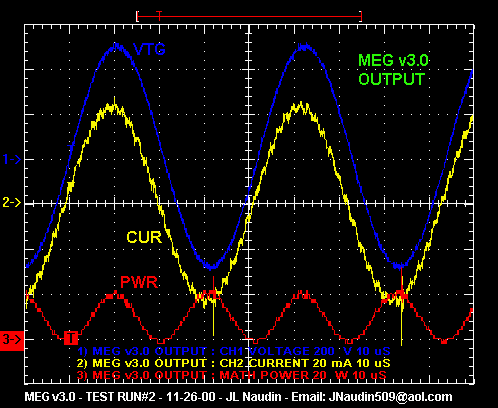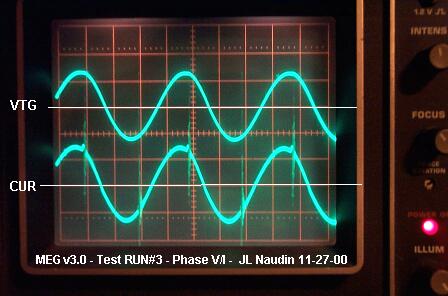 The phase between Voltage and Current at the MEG Output has also been checked
with an analog oscilloscope ( PM3215 2x50 Mhz Philips ).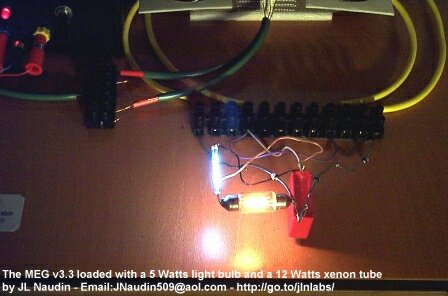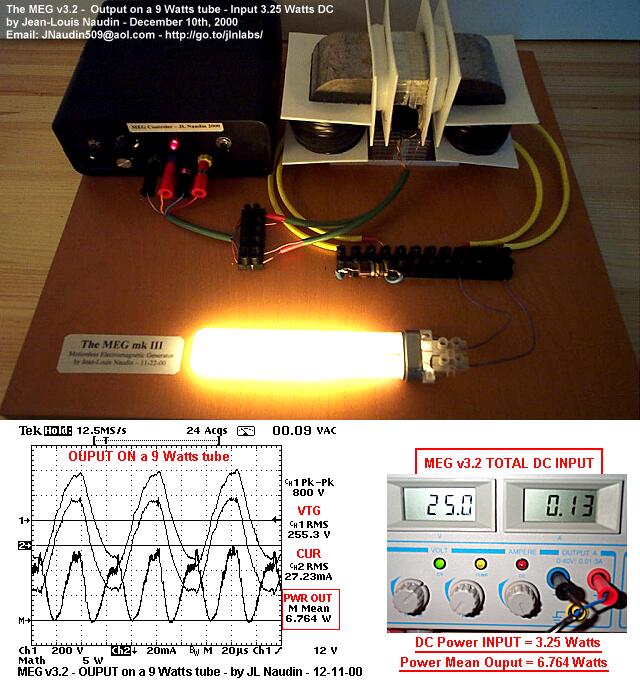 Notes : It is interesting to notice that the measured power required by the MEG electronic control board ( TL494, BUZZ11, LED... ) is 1.75 Watts ( without a load connected at the MEG Outputs ). When the output is loaded with the 9 W lamp, the DC power input is 3.25 Watts. So, the real power used by the lamp is 3.25 - 1.75 = 1.5 Watts at the INPUT with a measured OUTPUT = 6.76 Watts
Good advices for the MEG builders : The MEG Notes by Jon Flickinger
Technical datasheets :
See also the :
January 20th, 2001 : Interesting papers and patents :
---
Interesting papers and documents about the project :
Some technical infos :
Fe-based Nanocrystalline Toroidal Core for Current Transformers :
Characteristics: Nanocrystalline alloy has similar features of high initial permeability and temperature stability, less gravity and packing factor than that of Permalloy. Under the same conditions of core size and performance, it is lighter ( about 1/3 lighter) and cheaper than that of Permalloy.
Nanocrystalline Magnetic Core :
Characteristics: High saturation magnetic induction (1.25T), high permeability, high inductance (ten times higher than that of ferrite), low loss, small volume, light in weight, high electric interference resistance, good frequency performance and high temperature stability.
For more infos about the Nanocrystalline material see :
Magnetic material suppliers :
For more informations, please contact : JNaudin509@aol.com
---
Return to the MEG project home page