The Quantum Magnetic Motor Project
Tests and Design by Jean-Louis Naudin
created on 02/10/98 - JLN Labs - last update on 02/26/98
---
The QMM Mk8 is the first model of the Reed's motor built by JL Naudin and it is based on the hands sketch diagrams from N.Camus.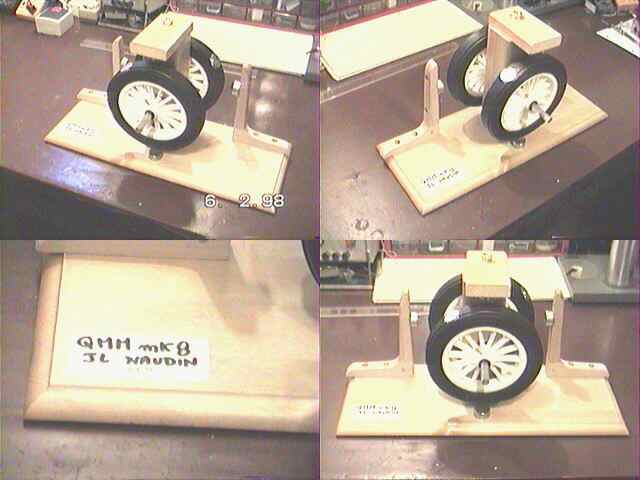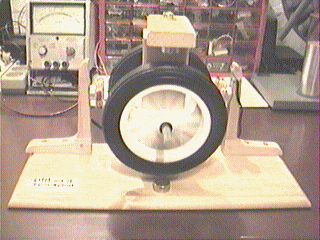 click here to see the RealVideo of the experiment
( you need the RealPlayer V5.0 )
Notes from Jean-Louis Naudin :
Today the motor does not run self-powered, I need to send short pulses with an external electronic circuit. BUT the interesting thing is that the magnetic repulsive force seems to vanish as the speed increases ( >500RPM)...
Important hints from Nelson Camus (update: 02-21-98) :
"You don't need electric pulses to run the motor,
If you don't use aluminum sheets, the motor will never work.
The QMM mk8 actual design, built by Jean-Louis Naudin cannot run itself,
It is necessary using a drum (cylinder), because the adjustment of the rear magnet's elevation are very precise, to prevent the equilibrium of magnetic forces. You need to move those magnets with your hands up or down every 45 degrees of rotation until to get 1 degree more getting repulsive force of the next magnet and following with the next one,
The magnets in the drum need to be:

the front ones fixed, the rear ones mobile with adjustment and method to fix in the drum when you get constant rotation, I used one bolt and nut in each magnet.

The aluminum sheets are one of the most important part of the motor, they are not only the switch ON and OFF, they prevent the equilibrium of magnetic forces. The adjustment of rear aluminum sheets versus the front ones is very precise. When you move out to the back the front ones the rear sheets are moving to the front 1 degree less then the front ones. When I have built the motor, I have used different types of thread in the front axle versus the rear one who support the front and rear aluminum sheets. This axle you turn clockwise using your finger according my schematic.
Following my instructions you will get every thing done."
See also the QMM Mk9...next step...
---

Email : JNaudin509@aol.com
---
Return to the Main page