G STRAIN ENERGY ABSORBER - GSEA 1.1 - TEST REPORT
V 1.1 - February 97 - Jean-Louis Naudin
---
Schematic diagram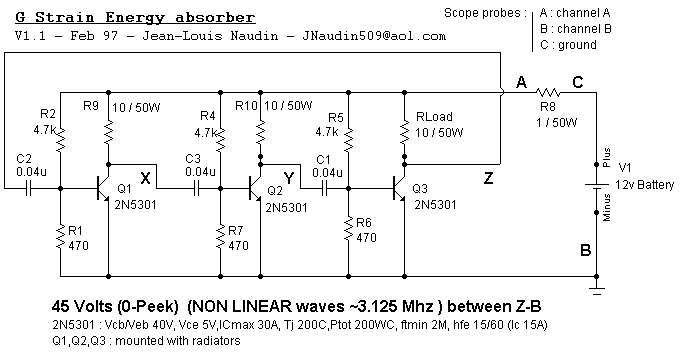 Notes : It is important to know that transistors Q1,Q2,Q3 must not work like an astable (tri-phase) multivibrator (you could verify it on scope (no square waves but NON LINEAR wave between XB, YB, ZB must be displayed on the scope).
Signal wave between X-B
The transistors used have gain between 35-40, it is important to notice that the transistor gain must be low (< 70 ). To succeed your G Strain absorber circuit, you must have transistor gain (hfe) approximately equal. The power supply must be a high power 12 v battery (car battery for instance).
Main tests and power measurements
---
Return to GSEA main page