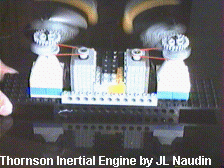 TheThornson Inertial Engine
The T.I.E. V1.0 by JL Naudin
created on 07-29-98 - JLN Labs - last update on 07-30-98
---
The Thornson Inertial Engine (TIE) uses the force from a rotating inertial mass (the centrifugal force) for producing a linear impulse.
An inertial propulsion engine (IPE) is a mechanical device which uses a standard electrical motor drive for producing a motion.
Some tests and measurements conducted on Thornson Drive prototype have suggested that the IPE force-to-power ratio can be up to 2000% ie 20 times higher than a conventional jet engine. (see the document from Thomas Valone "Inertial propulsion: the Thornson EZKL drives" and also the document from the same author "Inertial Propulsion: Concept and Experiment")
See the Patent : "Apparatus for developping a Force propulsion" by Brandson R. Thornson ( 1986 ) : Patent US4631971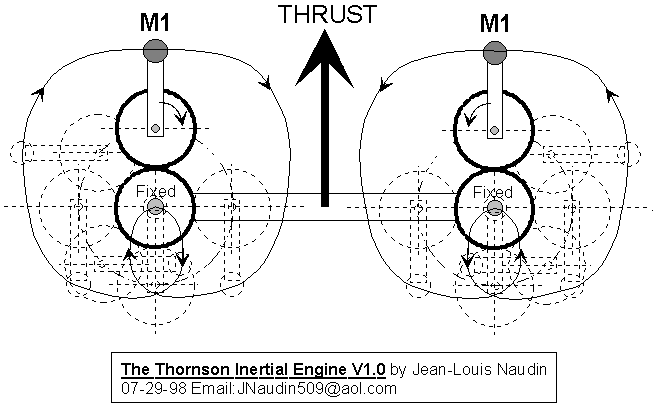 The Thornson drive is composed of eccentric masses which, when rotated properly, causes a cancellation of all forces except in one direction.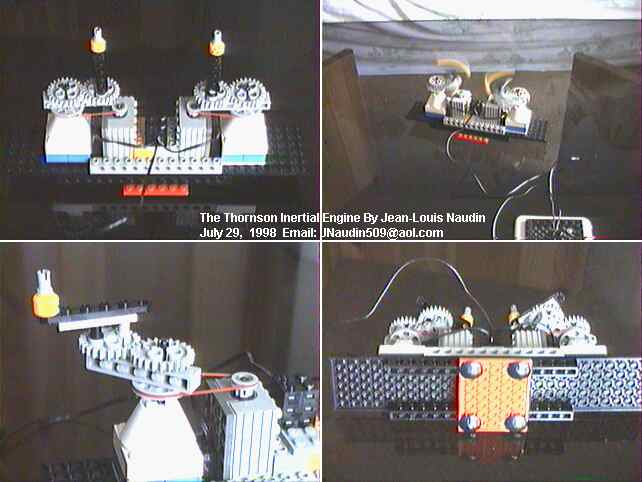 Some detailled pictures about the TIE prototype. You may notice the four "slider" fixed on the base, for a successfull experiment, the TIE device must run on a clean and smooth surface like glasse.
The total weight of the TIE V1.0 is 220 gr. The two spinning masses have a very light weight M=1.5 g (each)
I have noticed that a high speed gives better results than heavy rotating masse, because the unidirectional trust is more constant and this reduces the jerky motion.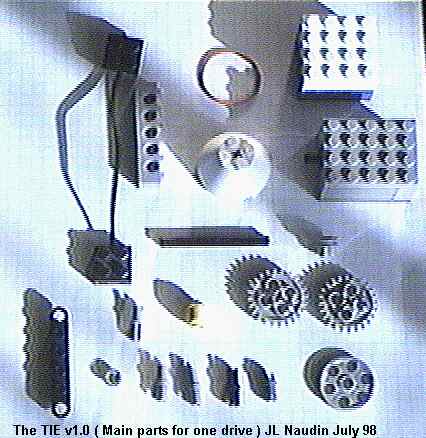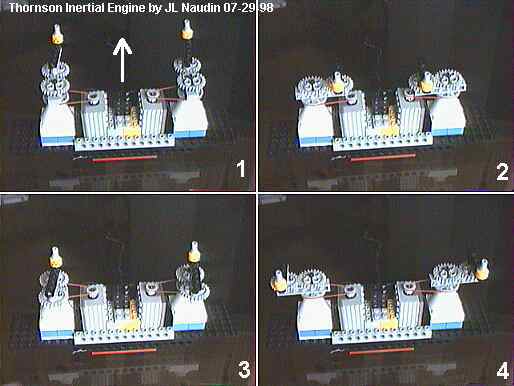 The rotation sequence of the TIE v1.0
---
See the Thornson Inertial Engine in action in REAL VIDEO :
( if you don't have the RealPlayer 5.0, you may download it freely at : http://www.real.com/products/player/ )
---
Additional notes : "In 1990, a 16 foot Grumman canoe and two passengers with a gross weight of 450 pounds demonstrated a low acceleration rate and propulsion of one mph after traveling 75 feet in a swimming pool. The 60 pound Thornson prototype was totally sealed inside a plywood case..." ( from Thomas Valone paper "Inertial propulsion: the Thornson EZKL drives" - PACE Newsletter vol 7-1, 7-4 and Vol 9-4 ).
Comments : In spite of the light rotating weights used (2x1.5 g), the TIE device is able to move itself on smooth surface (for the 220 g TIE slider version), and on water (for the 820 g TIE floating box version)...
See also : The TIE pendulum test
The Cycloid software simulator from Simon Tillson
---
If you need more informations or if you have any suggestions send me your Feedback

Email : JNaudin509@aol.com
---
Return to the Inertial propulsion main page