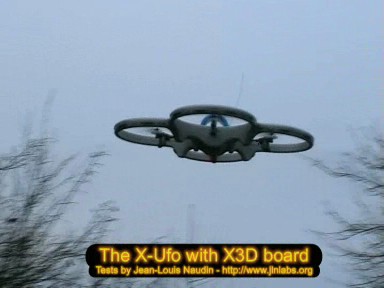 How to use the Graupner MX-12 transmitter at 41 Mhz with the X-UFO
Comment utiliser l'émetteur Graupner MX-12 à 41 Mhz avec le X-UFO
created on december 3, 2006 - JLN Labs - Last december 11, 2006
Toutes les informations et schémas sont publiés gratuitement ( freeware ) et sont destinés à un usage personnel et non commercial
All informations and diagrams are published freely (freeware) and are intended for a private use and a non commercial use.
---
With the original 27 Mhz transmitter, I have noticed that the range is very limited and I got very often some chaotic motion of the X-UFO due to the low power of this transmitter. So, I have decided to use a true transmitter commonly used for RC at the frequency of 41 Mhz. It is important to notice that I have tested some other transmitters without success ( a Multiplex MC3010, a Multiplex Cockpit MM, a Futaba FC18 and a Robbe Terratop ). Today, I use the Graupner MX-12 without problem and it works very fine.
Avec l'émetteur original en 27 Mhz livré avec l'X-UFO, j'ai remarqué que la porté était limitée et cela se traduisait par des mouvements chaotiques de l'X-UFO à cause de la faible puissance de l'émetteur. Ainsi, j'ai décidé d'utiliser un vrai émetteur de radiocommande dans la bande des 41 Mhz. Il est important de signaler que j'ai testé d'autres émetteurs sans succès ( un Multiplex MC3010, un Multiplex Cockpit MM, un Futaba FC18 et un Robbe Terratop ). Aujourd'hui, le Graupner MX-12 me donne entièrement satisfaction et le pilotage de l'X-UFO est très précis.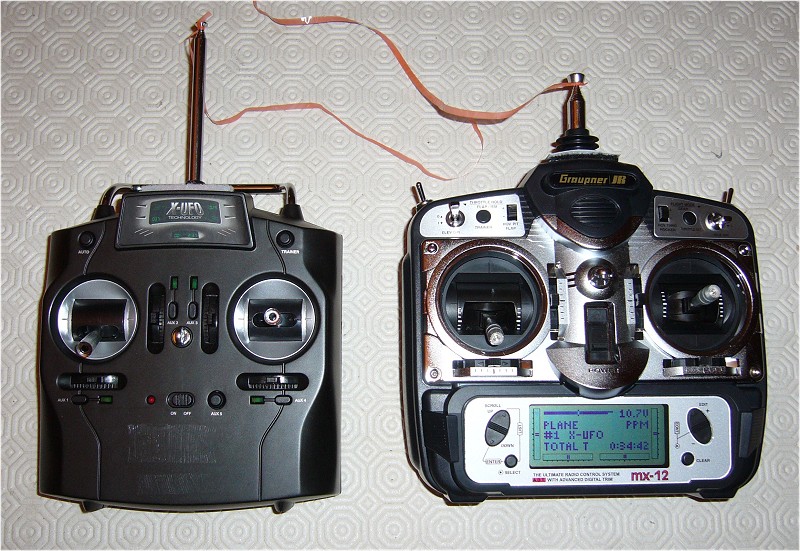 On the left, the original X-UFO transmitter (27 Mhz), on the right, the Graupner MX-12 (41 Mhz)
A gauche, l'émetteur original de l'X-UFO en 27 Mhz, à droite, l'émetteur Graupner MX-12 en 41 MHz.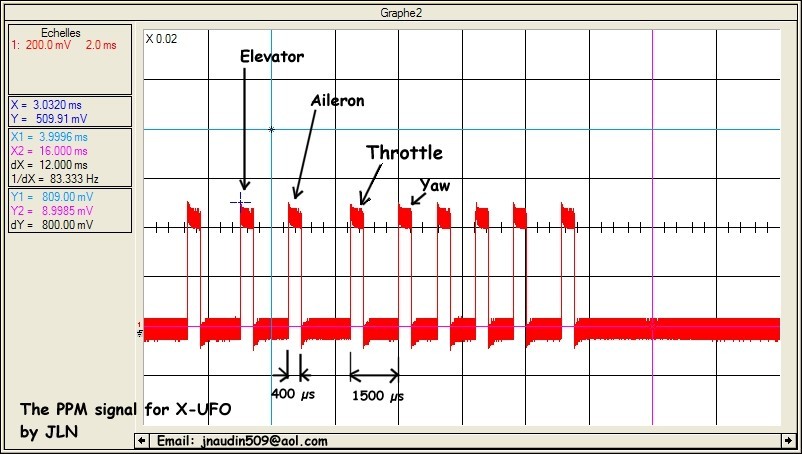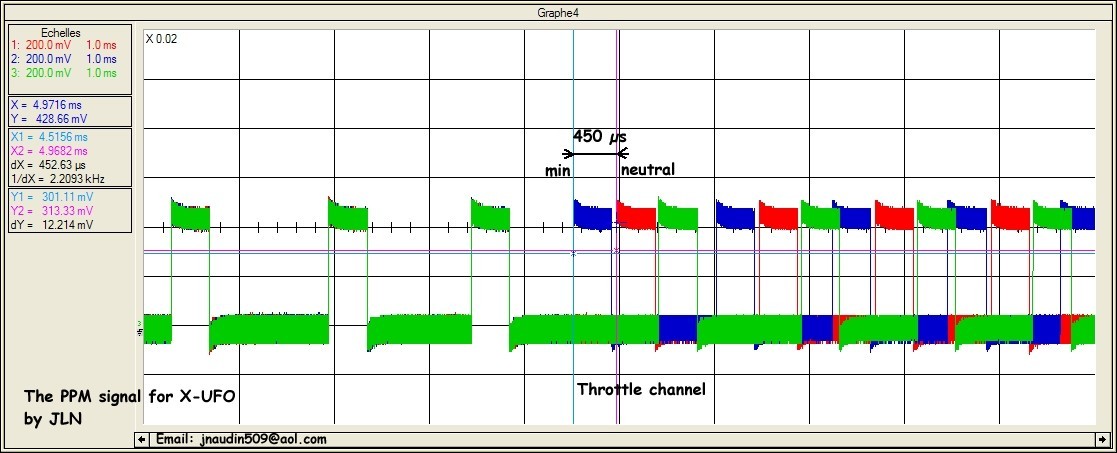 The original antenna must my changed by a 91 cm ( 1/8 l ) wire antenna and you need only to replace
the original 27 Mhz quartz by a 41 Mhz reveiver quartz on the main board of the X-UFO (see below).
L'antenne original a été changée par une antenne fil de 91 cm ( 1/8 l ) et vous n'avez juste qu'à remplacer le quartz
original en 27 Mhz par un quartz réception en 41 Mhz sur la carte principale de l'X-UFO (voir c-dessous).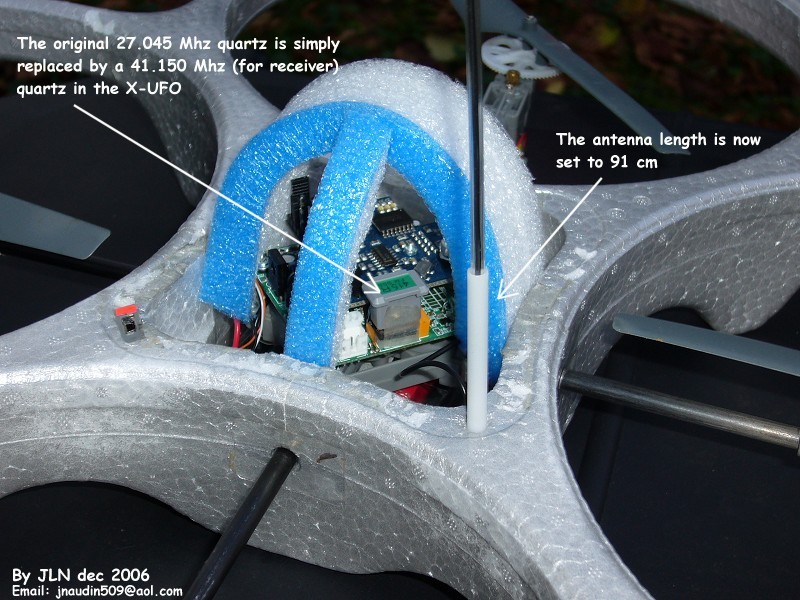 You will find below, the good setup for the Graupner MX-12 transmitter.
Vous trouverez ci-dessous les bons paramétrages de l'émetteur Graupner MX-12.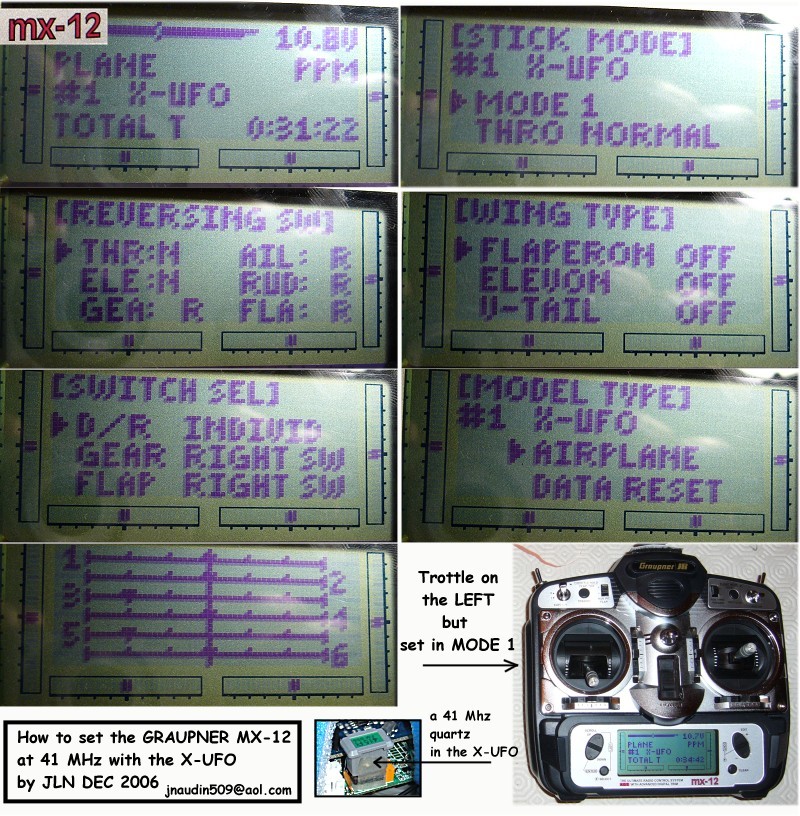 Cliquez ici pour télécharger le manuel complet de la MX-12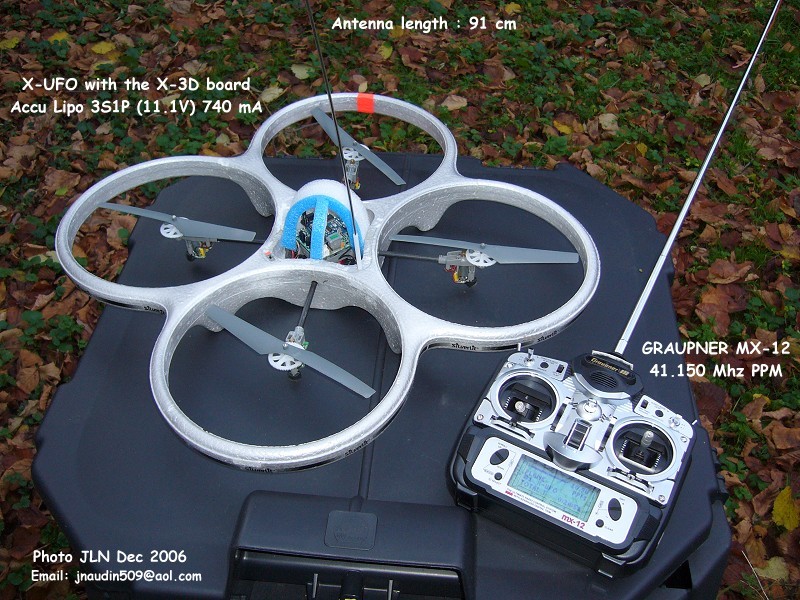 With the Graupner MX-12, the steering of the X-UFO (X3D version) is very precise and clean and it can fly at
a high range like a common RC airplane. This model which was originally a simple toy, is now transformed
into a starting base for a MAV development...
Avec l'émetteur Graupner MX-12, le pilotage de l'X-UFO (version X3D) est très précis, c'est un vrai régal,
il peut voler à grande distance comme un avion RC classique. Ce modèle qui était à l'origine un simple jouet est
maintenant transformé en base de départ pour le développement d'un mini-drone...
---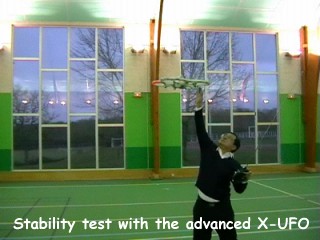 Stability test with the advanced X-UFO ( VIDEO clip )
---
To the X-UFO home page

visitors since dec 3, 2006