The Improved Lifter v2.0
by Mark A. Tecson ( Manila, Philippines)
created on November 21th, 2002 - JLN Labs - Last update November 21th, 2002
All informations in this page are published free and are intended for private/educational purposes and not for commercial applications
---
(115)
Sujet :
FIRST SUCCESSFUL REPLICATION OF AN IMPROVED LIFTER V2 11/21/2002 
Date :
21/11/2002 12:51:18 Paris, Madrid
De :
Mark A. Tecson ( Manila, Philippines )
A :
Envoyé via Internet
Dear Mr. Naudin,                                                                Nov. 21, 2002
I have previously built and successfull flown a lifter V1 but unfortunately, I cannot include it right now because it was destroyed by fire due to arcing.
I used a 40kv 63 watts power supply of a 16" color tv monitor for my lifter V2.  I also added some improvements to the construction of the lifter V2 to make it lighter and faster. The matter is discussed in the diagrams attached in this mail. 
The successful launch of my lifters is fully attributed to your site.
Mark A. Tecson
Manila, Philippines ( )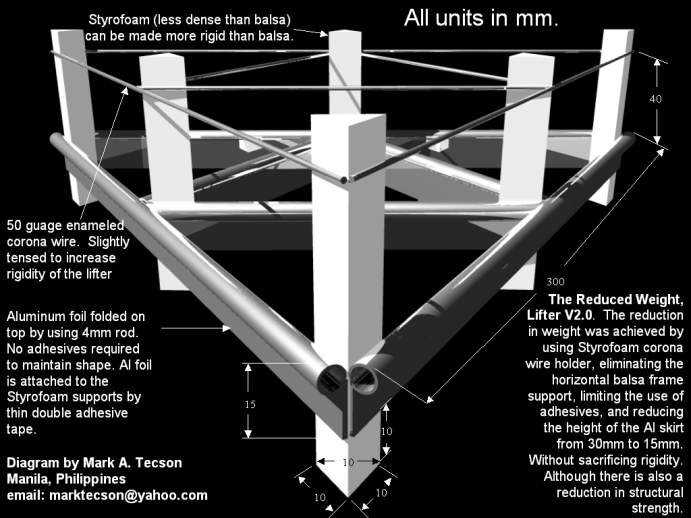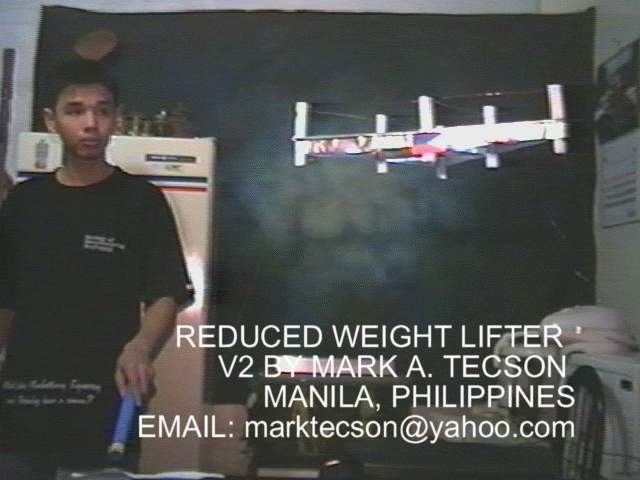 ---
Return to the Lifters Builders page