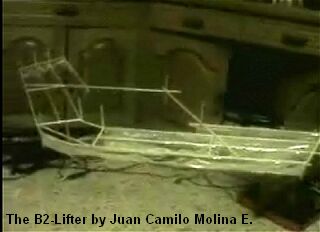 The B2-Lifter
by Juan Camilo Molina E. ( Colombia )
created on October 21, 2002 - JLN Labs - Last update October 23, 2002
All informations in this page are published free and are intended for private/educational purposes and not for commercial applications
---
(106)
Sujet :
My B-2 Lifter 
Date :
21/10/2002 10:26:16 Paris, Madrid
De :
Juan Camilo Molina E. ( Colombia )
A :
Envoyé via Internet
Dear Jean Louis Naudin ,  

Thank you so much for sharing your work with us.

I really admire the work you are doing and I encourage all lifter builders to continue this work which I believe has a briliant future.

I am an electronic engineer student from Colombia- South America.

About one month ago I was looking for an electro-magnetism science project on internet when I was brought to your page.
As soon as I saw the lifters I knew that this was the project I was looking for, I have always been amazed by levitation so I read all your page and watched all your videos (...now... I switch on the power supply...) and all the information I could about the lifters and after that I followed the plans for the lifter1.
It took me 4 days of continuous work (only two hours of sleep between days) to get my first lifter to work moderately stable. Since then, I have continued to experiment with this amazing device and I have now built more than 25 lifters.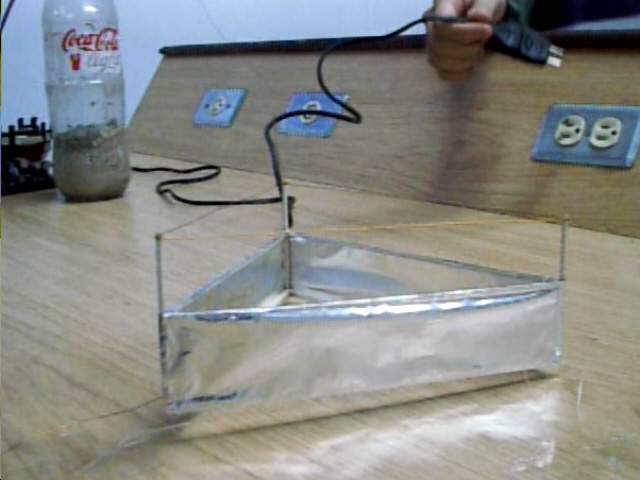 I have spent so much time building and testing that I had not taken the time to publish them on your page. Many of them have been damaged, but today I just finished one that surpasses all previous ones by far, so I tought it would be a good time to share my work with all the lifter enthusiast.

I named it B-2 Stealth Lifter (made it thinking in the B-2 bomber plane). It took me 10 hours to build it and lots of patience. When I was about to finish, it was too heavy (compared to my previous ones) that I tought it was not going to fly, but to my surprise, when I turned on the power it flew so fast that it lost one of the theters and crashed into a furniture next to it. I couldnt believe how good it was working. I set it again and it flew very stable at about 1 meter high ! (sure it goes higher, but the landing was so hard I was afraid it would get damaged, plus didn't want it to fly into my face) . It flies very quiet and you can feel it has lots of thrust.

I am attaching some pictures, a video, and some info. I will borrow a megapixel digital camera to send you some better pictures (mine is 640x480). If any one wants more information I will be very happy to help.

I have not measured its weight, but it can carry a door key that I had previously measured at university labs to be 9.23 g + the key holder metallic ring which weights 2.03g.

I will let you know when I do some more testing with it. I am now building an oscillator to make the landing and take off more smooth.

Thank you again and thaks to the people for sharing their ideas in this page which were very helpful.

To new lifter builders :
If you plan to build your first lifter, this are some advices which I found very helpful.

1) Get the thinest wire you can, it works better. I got mine from an old alarm clock. It has a coil in it that works great.
2) Use the thinest balsa wood you can get.
3) Secure the negative wire to the aluminum foil very good. I cut a little square and I pass the eire through it severeal times in and out, then I glue this square to the lifter foil. this way the wire makes better contact. sorry for not including pics right now, I will do later.
4) Roll the top of the foil and leave the bottom straight.
5) Get a lot of patience!!

Good Luck!!

Juan Camilo Molina E. ( Colombia )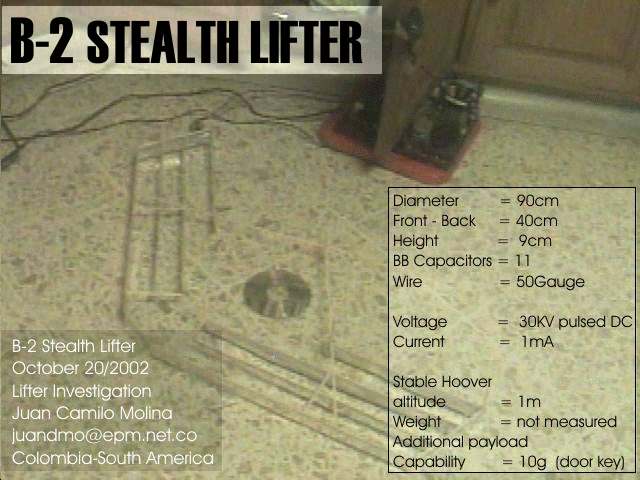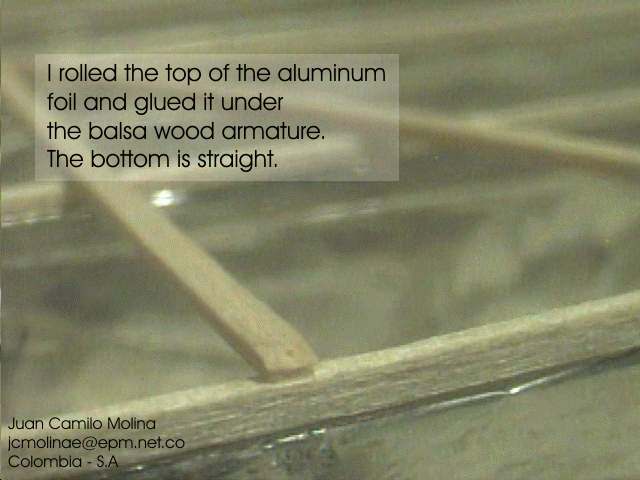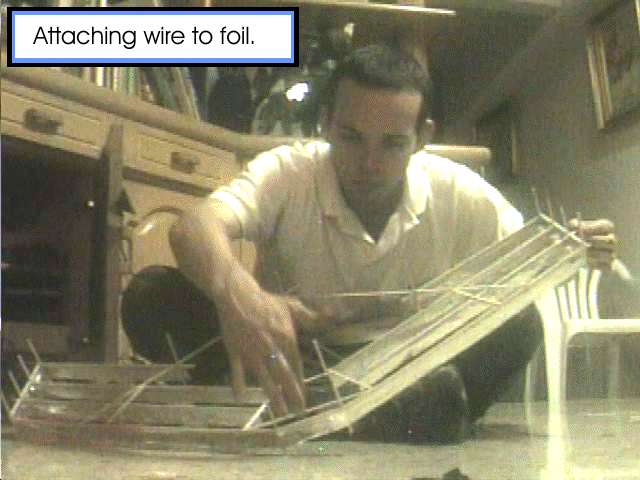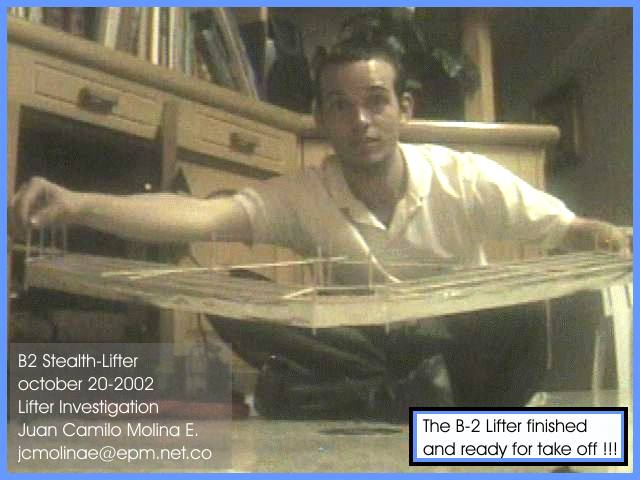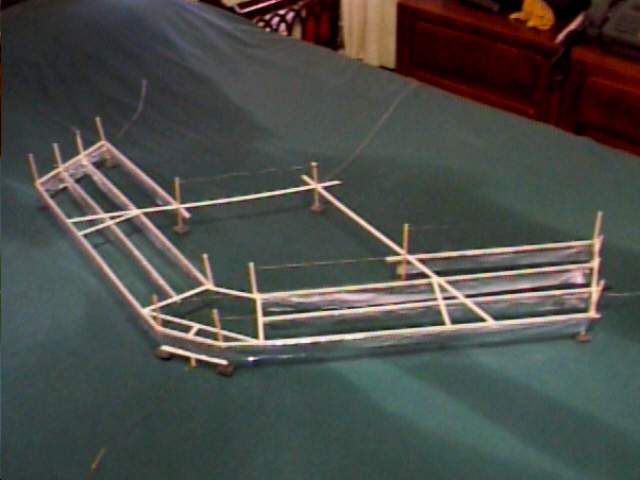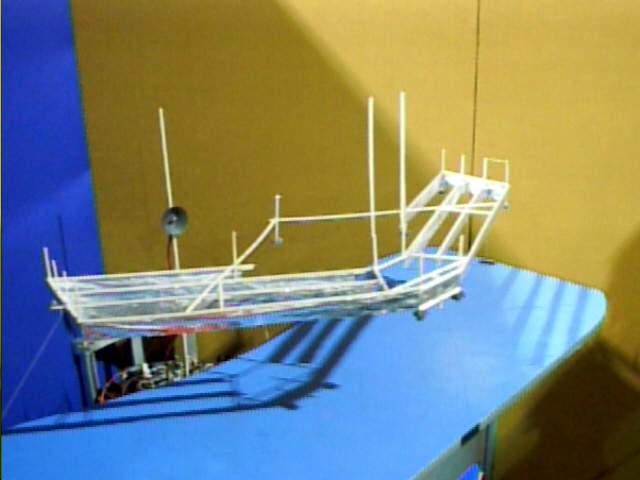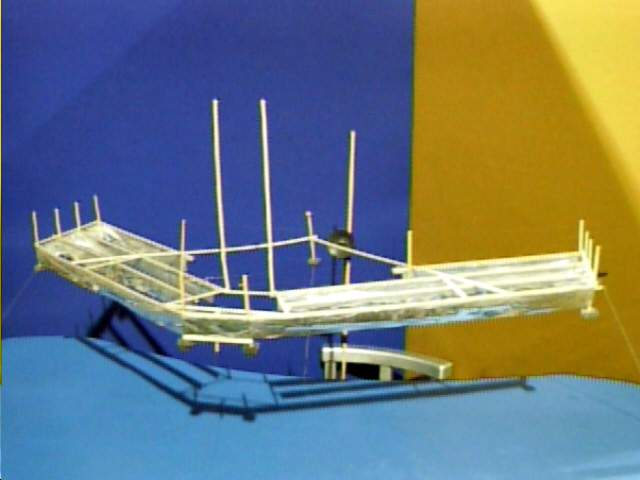 Click here to see the video of the flight of the B2 Lifter ( in WMV - Window Media format )
---
See also the :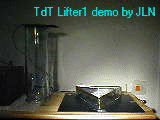 Lifters builders and tests feed-back

---
Return to the Lifters Builders page