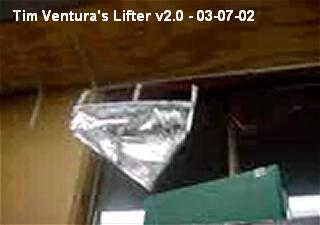 A Successful working Lifter v2.0
by Tim Ventura ( USA )
created on March 7, 2002 - JLN Labs - Last update March 7, 2002
All informations in this page are published free and are intended for private/educational purposes and not for commercial applications
---
Sujet :
Lifter Version 2 - Successful Test 
Date :
07/03/2002 06:04:29
De :
Tim Ventura ( USA )
A :
JNaudin509@aol.com
Envoyé via Internet
Dear Everybody:
This is a test of the lifter version #2, which contains an internal support-structure consisting of an additional 3 lifting surfaces. Essentially, it's one of the lifter V1 models placed inside an identical model of a larger lifter.
The power-output seems to be a little bit higher, and it is definitely more unstable on it's tethers. This could simply be due to weight-distribution issues from my construction or it could be something else entirely . . .more power, tether length, etc..
Thanks;
Tim Ventura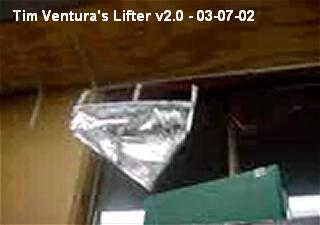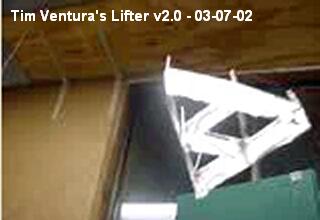 See the video of Tim Ventura Lifter v2.0 experiment
To see the videos, the free downloadable RealPlayer is required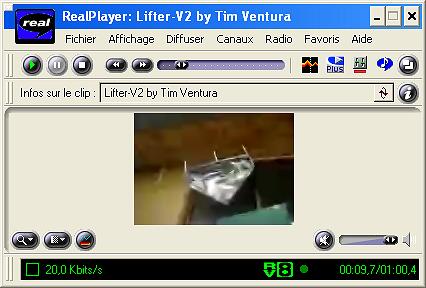 Click on the picture above to see the video ( 158 Kb )
Link to the Tim Ventura's "American Antigravity" web site
---
Additionnal comment from Jean-Louis Naudin : Congratulations again for your successful test of the Lifter v2.
The unstability of your Lifter v2.0 is due to the aspect ratio of your Lifter. With a larger T.Brown capacitor the device will be more stable :
Aspect Ratio = L2 / S  with  L = wide and S = surface of the armature
The Aspect Ratio of my Lifter v2.0 is equal to 10
---
See also the :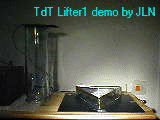 Lifters builders and tests feed-back

---
Return to the Lifters Builders page