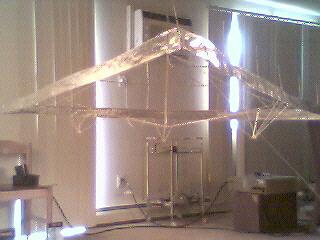 A Successful BeamShip-Lifter v3
by Russell Anderson ( USA )
created on May 13, 2002 - JLN Labs - Last update May 13, 2002
All informations in this page are published free and are intended for private/educational purposes and not for commercial applications
---
| | |
| --- | --- |
| Sujet : | Beamship: 2 Meter-Class Variation III  |
| Date : | 13/05/2002 02:01:30 |
| De : | Russell Anderson ( USA ) |
| A : | |
| CC : | |
Envoyé via Internet
Hi Lifters!
Applied Electrogravitics strikes again with the new, unbelievable and exotic 6-foot (2-Meters!) Beamship Variation III. Just look at the photos!
I almost would not have believed something so big and heavy could degravitate with such astounding upward force with such low power!
It is SO impressive and awesome in flight; the pics and video don't do it justice. This technology CAN be scaled up with no limit yet in sight!
Except now, to build larger Beamship series electric spacecraft, Applied Electrogravitics is forced to find larger facilities. Say, an abandoned aircraft hangar in SE Pennsylvania (TT Brown Territory).
Beamship is equipped with full space-frames, SEARL IGV-style landing gear (they are designed to/can support Searl's multi-ton IGVs), uncovered saucer framework. This is my favorite spaceship yet, and, its much quieter. Looks real impressive on floor and in flight! Full frames and cabin, ready for covering with mylar, etc.
Beamship Variation III - Specifications
Weight:                 42 grams
Width:                  6 feet on each side (2 Meters)
Height:                 18 1/2 inches
Anode wire:             #40 Stainless Steel
Wing foil height:       2 inches
Spark gap:              2 3/4 inches
Ambient temperature:    71 degrees F.
Amb. relative humidity: 68 %
date: sunday, May 12th
Timestamp:    1:55 pm EDT
Beamship is weightless at: 30,000 Volts straight DC @ .85 mA current.
That's about 25.5 Watts.
Beamship Variation III is in a stable neutral hover 4 1/2 feet off the lab floor at: 35,000 Volts (35KV) @ 1.35 mA current. That's 47.25 Watts for a 2-meters (largest ever in the world - call Guinness), 6-foot wide scale model electric spacecraft. Still has plenty of upward thrust at full power.
Will test for payload, but my best guess is 4-5 grams payload at 1.5mA @ 37KV.
The bar has been raised, and Applied Electrogravitics adds yet an even larger and better Beamship to its rapidly growing space-fleet. This is a nice size for onboard power and radio control. Look at my single-channel outboard RC, hooked up to power supply. Not much, but its a start... just neet to add 3-more channels for full RC. Ciao, fellow space-lifters, we are in the final space age...
Russell
Applied Electrogravitics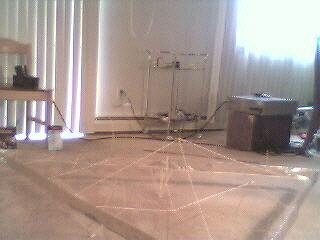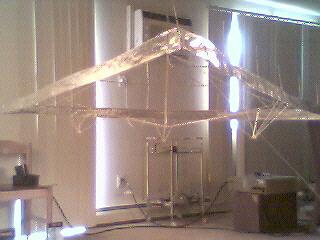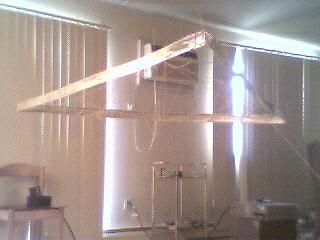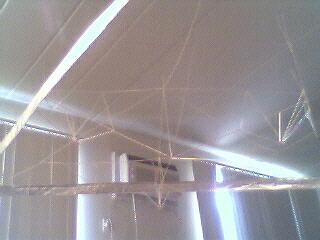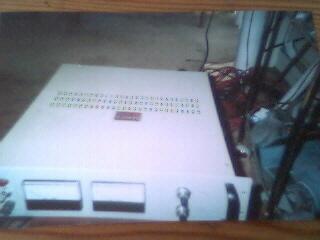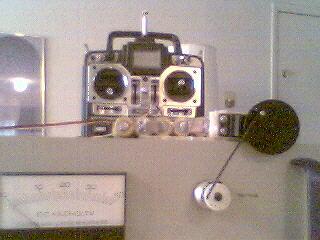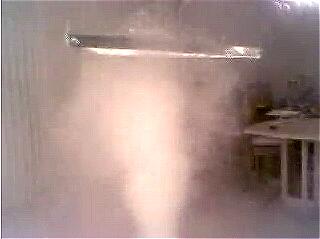 The Beamship fog test
SEE THE VIDEOS OF THE BEAMSHIP v3 IN ACTION
To see the videos, the free downloadable RealPlayer is required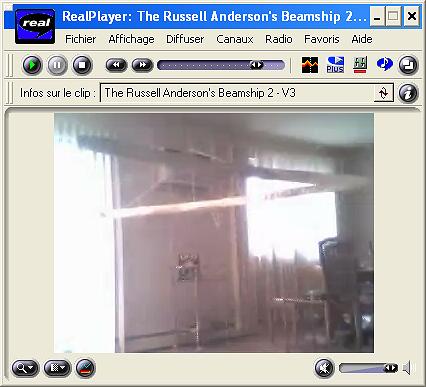 Click here to view video of the Beamship v3 ( 74 kb )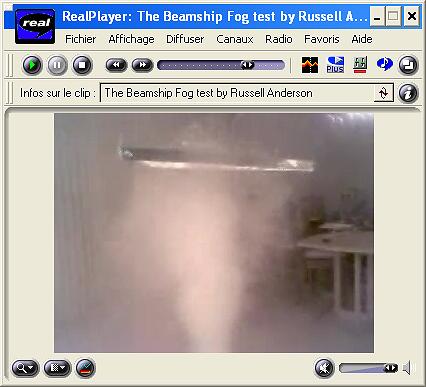 Click here to view video of the fog test with the Beamship v3 ( 147 kb )
---
See also the :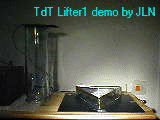 Lifters builders and tests feed-back

---
Return to the Lifters Builders page