EHD Propulsion - Successful replication at the University of Bourges ( France )
Je remercie vivement Jean Louis Naudin pour ses conseils et son site web exemplaire pour sa transparence, son souci de détails digne d'un scientifique. Gràce à ses recherches, comme bien d'autres à travers le monde sur le web, internet prend un sens véritable: une science sans frontière et un language universel pour un futur qui est déjà là...

J'ai surnommé mon aile EHD : " DELTA 1 "

A bientôt,
Bonnes recherches...
Gilles Charles ( Email: Gilles.Charles@univ-orleans.fr )
Physicien à la Faculté des sciences de Bourges ( France )
_______________
I am very grateful to Jean-Louis Naudin for his advices and his exemplary web site and his transparency, his carefulness of details worth of a scientific. Thanks to his researches, as many like him throughout the world on the web, the Internet begins to have a real sense: a science without frontier and an universal langage for the future which is already there...
I have named my EHD wing : " DELTA 1 ",
See you soon,
Good researches...
Gilles Charles ( Email: Gilles.Charles@univ-orleans.fr )
Physicist at the Bourges University of sciences ( France )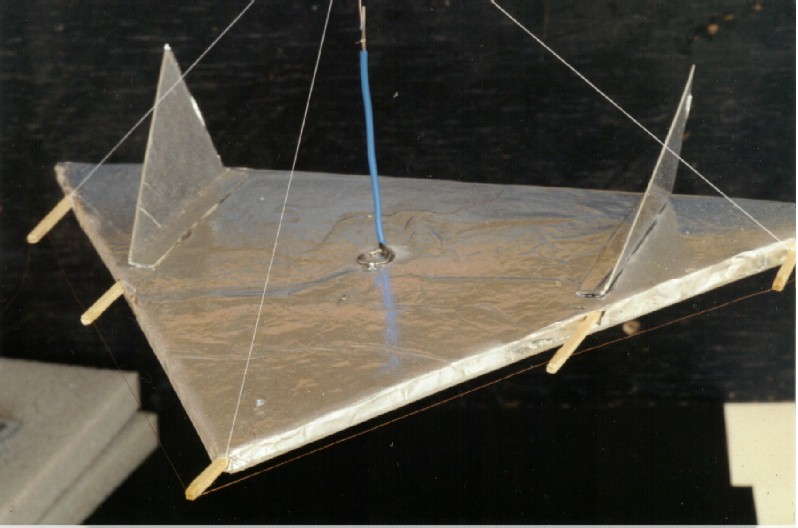 The Biefeld-Brown wing Tests (see the JLN's reference experiment )
On observe avec détails "Delta 1" qui est un triangle isocèle de 230mm sur 200mm constitué d'une plaque de polystyrène de 5mm d'épaisseur recouverte d'aluminium, relié au potentiel +10Kv. Un fil émaillé très fin sans vernis relié à la masse du système est placé devant le bord d'attaque, sur les photos on remarque que ce fil est relié au 0V par une bille métallique permettant la rotation et elle-même posée sur une surface conductrice.
We can see the "Delta 1" details, this is a 230x200 mm isosceles triangle made with a 5mm styrofoam sheet covered by an aluminum sheet and connected to +10kV. A thin copper wire in front of the leading edge is connected to the 0V (grounded) through a small steel ball placed on a conductive surface for a free rotation.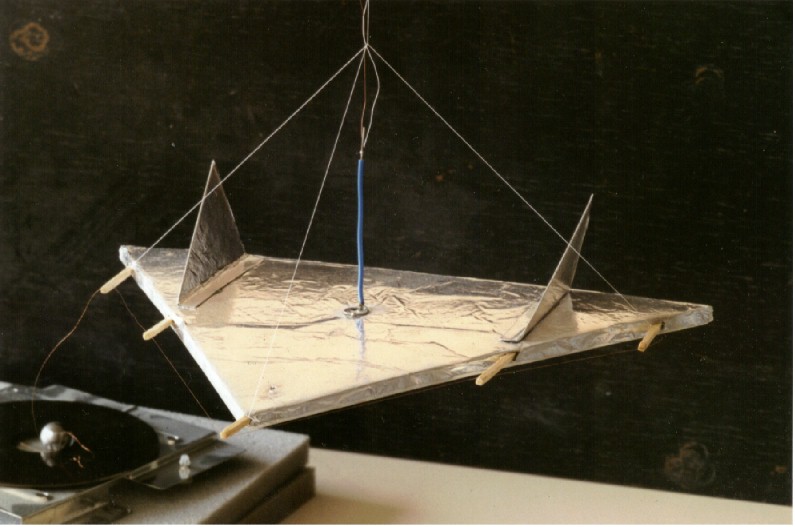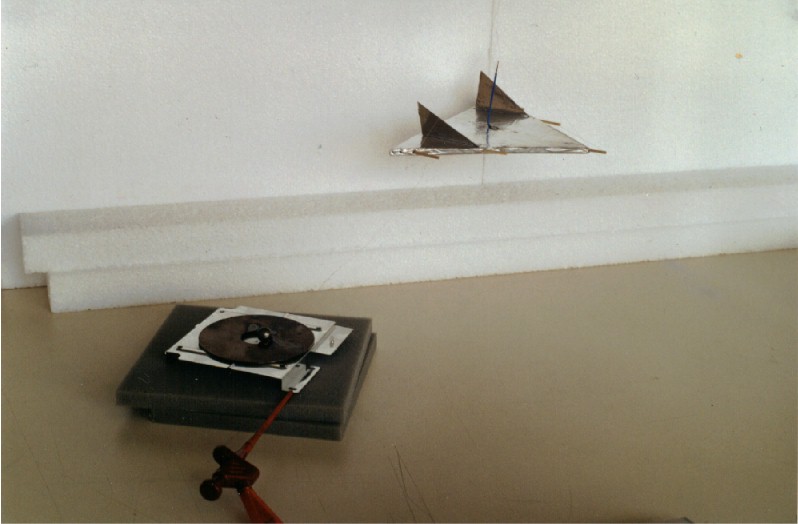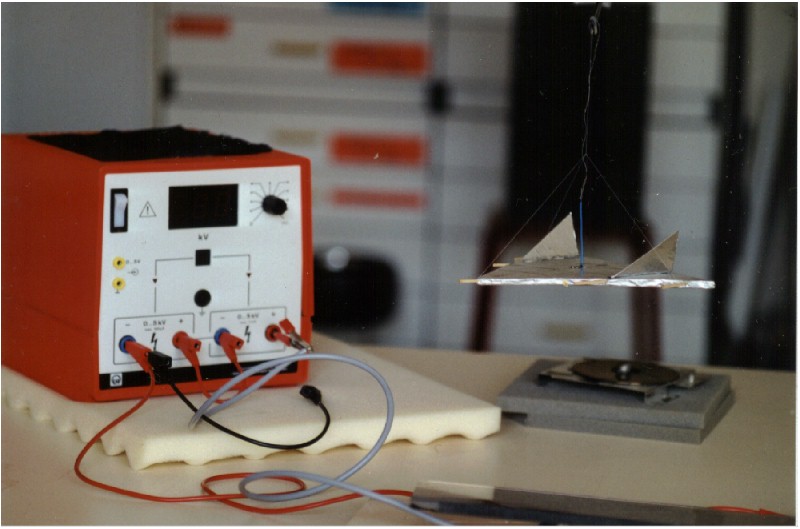 "Delta 1" est suspendue à un système de contre balancier en équilibre donc et j'utilise une alimentation 2x5kV pour une tension totale de 10kV et une intensité de 2mA. Je suis très heureux de mes premiers tests sur la propulsion EHD. L'aile était suspendu à une petite balance, dès l'application de la haute tension le module a réagit par une avancée très nette et a tourné continuellement.
"Delta 1" is hanged through a balanced apparatus and I have used a 2x5 kV power supply which is able to provide 10kV at 2 mA. I am very glad about these first tests on EHD propulsion. The wing was hanged on a small balance, when the high voltage is swiched on the apparatus is thrusted quickly forward and continuously.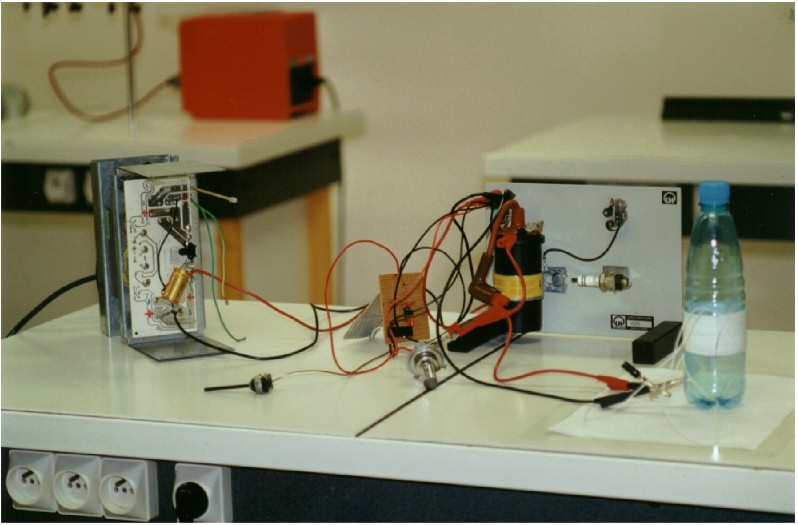 OAUGDP TESTS (see the JLN's reference experiment )
Expérience avec le système HF (OAUGDP) avec bobine d'allumage de voiture, le circuit électronique est identique à celui de JL Naudin sauf pour le transistor de puissance, j'utilise un BU426A et je mets une lampe 12V 30w en série dans le circuit de puissance en cas de surcharge. L'alimentation est de 20V , on observe une petite bouteille plastique sur laquelle j'ai bobiné 30 spires jointives isolées de 2 conducteurs de 0.6 mm de section pour réaliser le système OAUGDP.
Experiment on the HF system (OAUGDP) with a car ignition coil, the electronic circuit is the same as JL Naudin except for the high power transistor, I use a BU426A and I put a 12V 30W light bulb in serie with the circuit for protecting the circuit from the overload. The power supply is a 20V and the OAUGDP system is made with 2x30 turns of insulated wires (0.6mm diam) wound on a simple plastic bottle.
Return to the Advanced propulsion home page