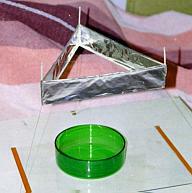 A Successful working Lifter1
by Carsten Spanheimer ( Germany )
created on April 22, 2002 - JLN Labs - Last update May 3, 2002
All informations in this page are published free and are intended for private/educational purposes and not for commercial applications
---
(056)
Sujet :
Another lifter 1 replication 
Date :
22/04/2002 12:14:39 Paris, Madrid
De :
Carsten Spanheimer ( Germany )
A :
Dear M. Naudin,

On april, the 21st, 2002 I had my successful replication of the lifter 1 experiment. The lifter hovered very stable.
The HV supply was made with a 14 inch color monitor.
Here I send you three photos of my lifter 1 replication experiments. There are some more, but these are the essential ones.
With best regards,

Carsten Spanheimer, Tuebingen, Germany.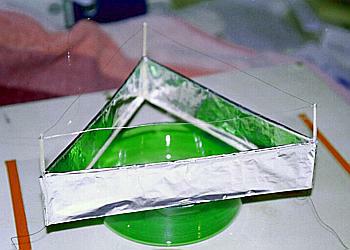 ---
See also the :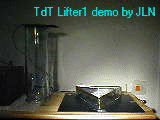 Lifters builders and tests feed-back

---
Return to the Lifters Builders page