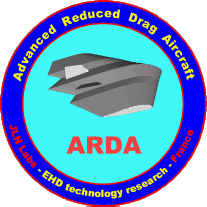 You will find some details about the ARDA projects, that I have planned for the next year(s)...
The ARDA Mk3 is in fact the same version of the Mk2 but with some minor improvements.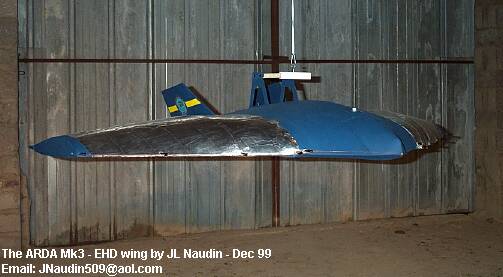 The Real flying model will be the ARDA Mk4, the wing profile (E338) will be greatly improved, most particularly the flight envelope and the stability of the flight.
The ARDA Mk4 and Mk5 will use the same EHD features than the previous version. The Mk4 will be the flying lab and the Mk5 will be used as a demonstrator, may be that the Mk4 and Mk5 will be the same, that depends about the tests results.
The ARDA Mk6 will be a new great step for this project because this will use a new "EHD skin" currently under study in my lab. The previous ARDA wing versions from the Mk1 to Mk5 use the common and basic thin wire in front of the leading edge of the wing (ala Biefeld-Brown)... The ARDA Mk6 will use a new EHD skin which (I hope) will be able to thrust significantly the craft.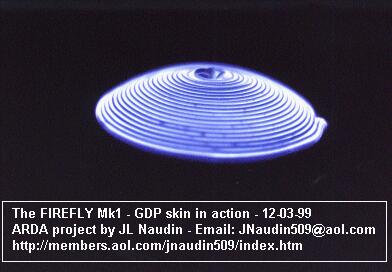 The ARDA "Firefly" will use a Glow Discharge Plasma (a GDP skin) on all the surface of the wing, this works already very well in my lab and this new skin will be installed in the Mk6. The "Firefly" name has been chosen because the skin is glowing in the night due the cold plasma covering all the surface...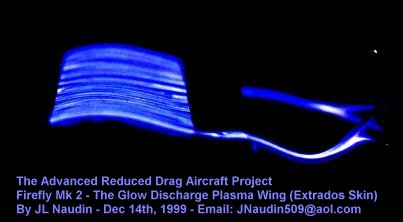 See the latest new design of the ARDA Mk V Flying wing :
The ARDA Mk V is now under construction and the first test flight is planned for summer 2000...
The ARDA Project is very encouraging and exciting and it will soon open a new way in the field of advanced propulsion...
See also : The ARDA "Morningstar"
Best Regards,
Jean-Louis Naudin, December 3rd, 1999
Email: Jnaudin509@aol.com
Overunity Web site: http://members.aol.com/jnaudin509/index.htm
eGroup:http://www.egroups.com/group/jlnlabs/
---
Return to the Advanced Propulsions Researches